2012 Honda Gold Wing Audio Comfort (GL18HPM) Review

Review Title:

Very Nice Ride
Ratings
Overall
★ ★ ★ ★ ★

5 stars

Reliability
★ ★ ★ ★ ★
Quality
★ ★ ★ ★ ★
Performance
★ ★ ★ ★ ★
Comfort
★ ★ ★ ★ ★
It's a very nice motorcycle. I moved up from a Suzuki C50T (which I loved) but the Wing offers everything and more. Highway cruising is more comfortable, plenty of speed, nice radio and suspension. I was worried about the size of the bike, being only 5'7" but the bike is very balanced and I can handle with ease. I enjoy it and ride every chance I get.
Submitted September 2013: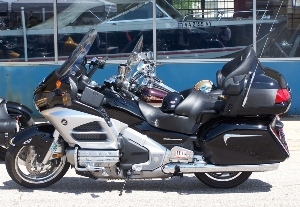 Upgrades:
Highway Pegs, Saddle bag Accents, CB Antenna (No CD yet), Rear Tail Lights, Fog Lights, Chrome Handle bar Accents, Uptopia Backrest and Chrome coffee mug.
About the reviewer:
Author:
Coach 44
Height:
5' 7"
Weight:
195
Miles or hours spent on the review:
4001 miles
Location
Virginia Beach, Virginia, United States
View
Honda Gold Wing Audio Comfort (GL18HPM)
Motorcycles For Sale on
CycleTrader.com