2001 Kawasaki Vulcan 1500 Classic Review

Review Title:

A Wilder Vulcan
Ratings
Overall
★ ★ ★ ★ ★

5 stars

Reliability
★ ★ ★ ★ ★
Quality
★ ★ ★ ★ ★
Performance
★ ★ ★ ★ ★
Comfort
★ ★ ★ ★ ★
The original bike was my first larger bike and I have purchased quite a few "add ons". The factory seat was a spine buster and after about every 40 miles had to get off for a realignment. The new seat took care of that issue, for front, back and backrest. The bike still sounds great and runs good and I can still get a compliment or two on it. I'm starting to get an itch for a new Vulcan 1700 Nomad now so we'll see what the bank roll will allow.
Submitted June 2014: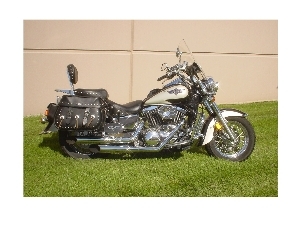 Upgrades:
Most notably was the Mustang seat, Cobra exhaust and Kuryakin hyper charger. Boss Bags 42s and engine guard. A safe estimate is about 5K with all the extras, but it was fun and don't regret a dime.
About the reviewer:
Author:
Anonymous
Height:
5' 9"
Weight:
190
Miles or hours spent on the review:
63000 miles
Location
Wilder, Kentucky, United States
View
Kawasaki Vulcan 1500 Classic
Motorcycles For Sale on
CycleTrader.com