2005 Suzuki Boulevard C50T Review

Review Title:

Great Middleweight Cruiser
Ratings
Overall
★ ★ ★ ★ ★

5 stars

Reliability
★ ★ ★ ★ ★
Quality
★ ★ ★ ★ ★
Performance
★ ★ ★ ★ ★
Comfort
★ ★ ★ ★ ★
I bought a used 2005 C50T with only 7K miles on it after riding a starter Honda Rebel for a couple of years after taking the MSF course. It was a great choice - lightweight and easy to ride, even at low speeds, but looks like a much bigger motorcycle. The riding position is very good - upright and feet not too far out in front. It has good acceleration and is smooth at all speeds. A downshift is necessary sometimes from 5th to 4th gear to pass, especially on hills, but that is not a problem. There is quite a bit of wind that does get under the windshield and the top of the windshield. Even at its lowest setting, it is right in my line of vision. But these complaints are minor when you consider the price. You get a great cruiser that has the looks of a Harley at about half the price. I have been getting 45 mpg. and my only beef about the 2005 model is that it does not have a fuel gauge. The seat is comfortable and I have delayed buying a Mustang seat to see how it performs on long distance rides - I need to gas up every 140 miles or so anyway, so I have no complaints on the stock seat so far. The saddlebags are roomy, but be aware they are not waterproof and if you ride in the rain, you will need to enclose the contents in plastic bags.
Submitted April 2013: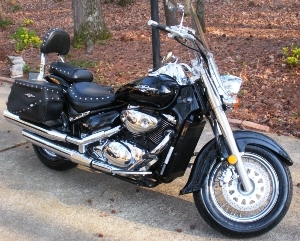 Upgrades:
Show Chrome highway/crash bars, chrome radiator cover and Suzuki luggage rack.
About the reviewer:
Author:
Doug McMillan
Height:
6'
Weight:
192
Miles or hours spent on the review:
1200 miles
Location
Alpharetta, Georgia, United States
View
Suzuki Boulevard C50T
Motorcycles For Sale on
CycleTrader.com