2001 Suzuki Intruder Volusia Review

Review Title:

AWESOME 2001 V800 SUZUKI INTRUDER VOLUSIA
Ratings
Overall
★ ★ ★ ★ ★

5 stars

Reliability
★ ★ ★ ★ ★
Quality
★ ★ ★ ★ ★
Performance
★ ★ ★ ★ ★
Comfort
★ ★ ★ ★ ★
I bought my Intruder used with only 10,000 kms. And let me tell you ladies and gentlemen, I would buy another one of these again before I'd buy a Harley. Not that Harley's are bad, just overpriced. You can't buy a more dependable motorcycle for your money anywhere... A real LOOKER. Way to go SUZUKI.
Submitted October 2005: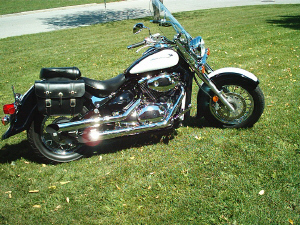 Upgrades:
Windshield, Saddlebags, Cobra pipes...
About the reviewer:
Author:
Bob Meloche
Height:
5' 11"
Weight:
240
Miles or hours spent on the review:
12,000 km
Location
Tilbury, Ontario, Canada
View
Suzuki Intruder Volusia
Motorcycles For Sale on
CycleTrader.com