2010 Triumph Thunderbird Review

Review Title:

Still Great After 1 Year
Ratings
Overall
★ ★ ★ ★ ★

5 stars

Reliability
★ ★ ★ ★ ★
Quality
★ ★ ★ ★ ★
Performance
★ ★ ★ ★ ★
Comfort
★ ★ ★ ★ ★
I have been very happy with my 2010 Thunderbird. My mate in England provided be with just enough Union Jacks to set it apart from others. The handling is superior to any other bike like this. Mine has the Triumph shorty pipes, which sound good, but I will upgrade when the warranty is out. It has great power and outhandles any other bike in its class. As with other reviews, the touring seat is a must - mine came with the promo pack last year. I come from a sport bike background, and this is the perfect cruiser for someone who still cares about how his bike handles.
Submitted April 2012: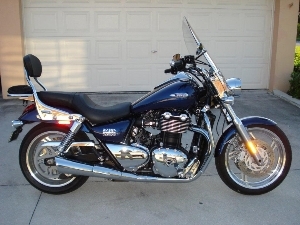 Upgrades:
Windshield, touring seat, shorty pipes, detatchable rack & backrest, leather covered saddle bags and just enough extra chrome.
About the reviewer:
Author:
Don Tomas
Height:
5' 1"
Weight:
210
Miles or hours spent on the review:
6500 miles
Location
Seminole, Florida, United States
View
Triumph Thunderbird
Motorcycles For Sale on
CycleTrader.com