2013 Triumph Thunderbird Storm ABS – Jet Black Review

Review Title:

Awesome, Awesome Bike
Ratings
Overall
★ ★ ★ ★ ★

5 stars

Reliability
★ ★ ★ ★ ★
Quality
★ ★ ★ ★ ★
Performance
★ ★ ★ ★ ★
Comfort
★ ★ ★ ★ ★
I bought my Storm new in August and put nearly 2,500 miles on it in two months. It's fast, comfortable, handles great, has strong brakes and plenty of torque. I can't comment on reliability because it's so new but after months and months of research, for the price it was the best out there. It has a great look and it's not just another same as the next Harley. No offense but out of a hundred bikes, one or two are Triumphs. I prefer quality over quantity - great bike!!
Submitted October 2013: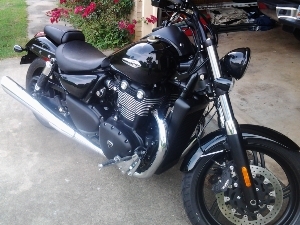 Upgrades:
Removed plastic license plate assembly and relocated tag. Coming soon, K and N, Dart windscreen, Predator pipes, fuel processor and maybe seats and grips.
About the reviewer:
Author:
David
Height:
5' 9"
Miles or hours spent on the review:
2300 miles
Location
Charlotte, North Carolina, United States
View
Triumph Thunderbird Storm ABS - Jet Black
Motorcycles For Sale on
CycleTrader.com