2008 Triumph Tiger ABS Review

Review Title:

It's A Keeper
Ratings
Overall
★ ★ ★ ★ ★

5 stars

Reliability
★ ★ ★ ★ ★
Quality
★ ★ ★ ★ ★
Performance
★ ★ ★ ★ ★
Comfort
★ ★ ★ ★ ★
I recently picked up an '08 Tiger ABS (Black) from a young fellow down in Sacramento, CA. It had only 3,800 miles on the clock and very clean. It's a great scooter. High gear roll-ons bring big grins. It came with factory hard bags and a centerstand. The stock windshield is worthless. I bought a Cee Bailey from a gent in Philly and he shipped it out to me. I still get some wind noise, but no more blast of air to the chest and the price was right. This bike a hoot to ride. The torque is just awesome. I played with the suspension a little. No complaints with the handling. Brakes are spot on. I sold my 650 V-Strom and still have my '07 ST 1300 for the long hauls. I'm retired and life is good.
Submitted December 2011: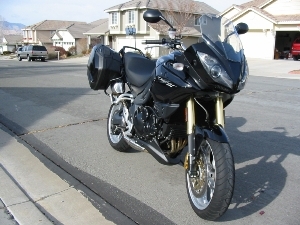 Upgrades:
Factory hard bags. Centerstand. Cee Bailey windshield (light smoke).
About the reviewer:
Author:
Don Z.
Height:
6'
Weight:
190
Miles or hours spent on the review:
350 miles
Location
Sparks, Nevada, United States
View
Triumph Tiger ABS
Motorcycles For Sale on
CycleTrader.com