1999 Yamaha PW80 Review

Review Title:

Great Bike For 6-10 Year Olds
Ratings
Overall
★ ★ ★ ★ ★

5 stars

Reliability
★ ★ ★ ★
Quality
★ ★ ★ ★ ★
Performance
★ ★ ★ ★ ★
Comfort
★ ★ ★ ★
I am 14 now and I have a PeeWee 80. I don't ride it anymore but my brother does. I used to ride it and it's a great bike for beginners. I have been riding 8 years now and am getting a CRF150 in a couple of weeks. The PW80 a great bike with good acceleration and can keep up with a 100cc bike for about 35 meters. It does around 70km. It never bottomed out on me and I weigh around 50kg so I would recommend this bike to any youngster wanting to move up from the 50cc bike.
Submitted November 2004: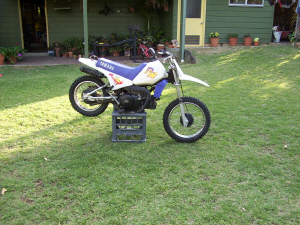 Upgrades:
Nw choke cable, end of exhaust pipe has fallen off a few times but was welded back on, new swingarm bolt.
About the reviewer:
Author:
Ben
Height:
5' 4"
Miles or hours spent on the review:
Not Sure of Miles
Location
ipswich, Australia
View
Yamaha PW80
Motorcycles For Sale on
CycleTrader.com