2012 Suzuki Burgman 650 Exec Review

Review Title:

Nice
Ratings
Overall
★ ★ ★ ★ ★

5 stars

Reliability
★ ★ ★ ★ ★
Quality
★ ★ ★ ★ ★
Performance
★ ★ ★ ★ ★
Comfort
★ ★ ★
I rated comfort 3 because of the seat's backrest. Change it and it's a 5 again. MPG. is 33 to 55. Just watch the takeoff speed and it does well, 44 in town. It's quiet and smooth. I am hooked on the auto-trans and built in storage. It's a keeper.
Submitted October 2012: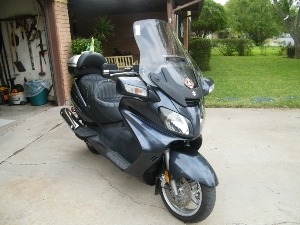 Upgrades:
Rear Box and new driver's back rest.
About the reviewer:
Author:
Anonymous
Height:
5' 8"
Miles or hours spent on the review:
8000 miles
Location
Brownsville, Texas, United States
View
Suzuki Burgman 650 Exec
Motorcycles For Sale on
CycleTrader.com