2008 Yamaha Vino 125 Review

Review Title:

Great Ride
Ratings
Overall
★ ★ ★ ★ ★

5 stars

Reliability
★ ★ ★ ★ ★
Quality
★ ★ ★ ★ ★
Performance
★ ★ ★ ★ ★
Comfort
★ ★ ★ ★
I bought my Vino 125 the first of June and it runs great. I am very happy with the power, I have no trouble in traffic. There is a little noise in the front brake and the seat is uncomfortable on longer rides. I live at 5600 feet so the gas mileage is about 70 but that's ok especially when you leave the pump and there's $2.47 in the price window. I am happy with my scooter. It only costs $54.50 per month to own, operate, license and insure. My other vehicle costs $373.00 per month just for the lease payment.
Submitted August 2007: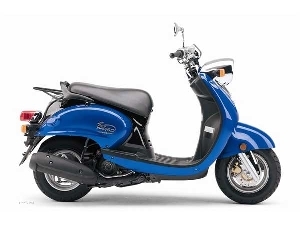 Upgrades:
Would like to get a windscreen soon because it's going to start getting cold here.
About the reviewer:
Author:
SJM
Height:
5' 1"
Weight:
180
Miles or hours spent on the review:
350 miles
Location
Littleton, Colorado, United States
View
Yamaha Vino 125
Motorcycles For Sale on
CycleTrader.com